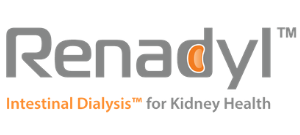 THE PRE AND THE PRO: WHAT'S PREBIOTICS?
Article posted in: Dialysis
But what about PRE-biotics?
To put it simply they're vital substances that probiotic bacteria need to flourish. As a recently published newspaper article on the subject puts it:
It's not enough to just get beneficial bacteria into your body. To make sure these good guys stay and thrive, you've got to feed them. One of their preferred meals is a type of soluble fiber called fructooligosaccharides (FOS), found in a variety of vegetables, fruits and grains.

Because FOS helps probiotics thrive, this fiber and its relatives have been dubbed prebiotics. It's a term we'll be seeing more as scientists unravel the details of how our gut microbiome works.
– 'You know about probiotics, but what about prebiotics?',The Dallas Morning News, February 28, 2015
Read the full article here.
The Mayo Clinic also has some useful information on prebiotics.
More about Kibow Products
Kidney Health: Renadyl™
Formerly known as Kibow® Biotics, Renadyl™ is a patented and proprietary probiotics dietary supplement that has been scientifically formulated and clinically tested. Renadyl™ metabolizes nitrogenous waste that has diffused from the bloodstream into the bowel. Learn More →
Immune Health: Kibow Fortis™
Kibow® Fortis™ is a scientifically formulated probiotic immune system booster. It addresses risk factors of metabolic syndrome; restores intestinal microflora destroyed by antibiotics & strengthens the immune system for everyone, especially aging populations. Learn More →
Probiotic Multi Fiber : Kibow Flora™
Kibow Flora™ is a revolutionary prebiotic multi-fiber dietary supplement formulated to help manage digestive health and general wellness. Learn More →